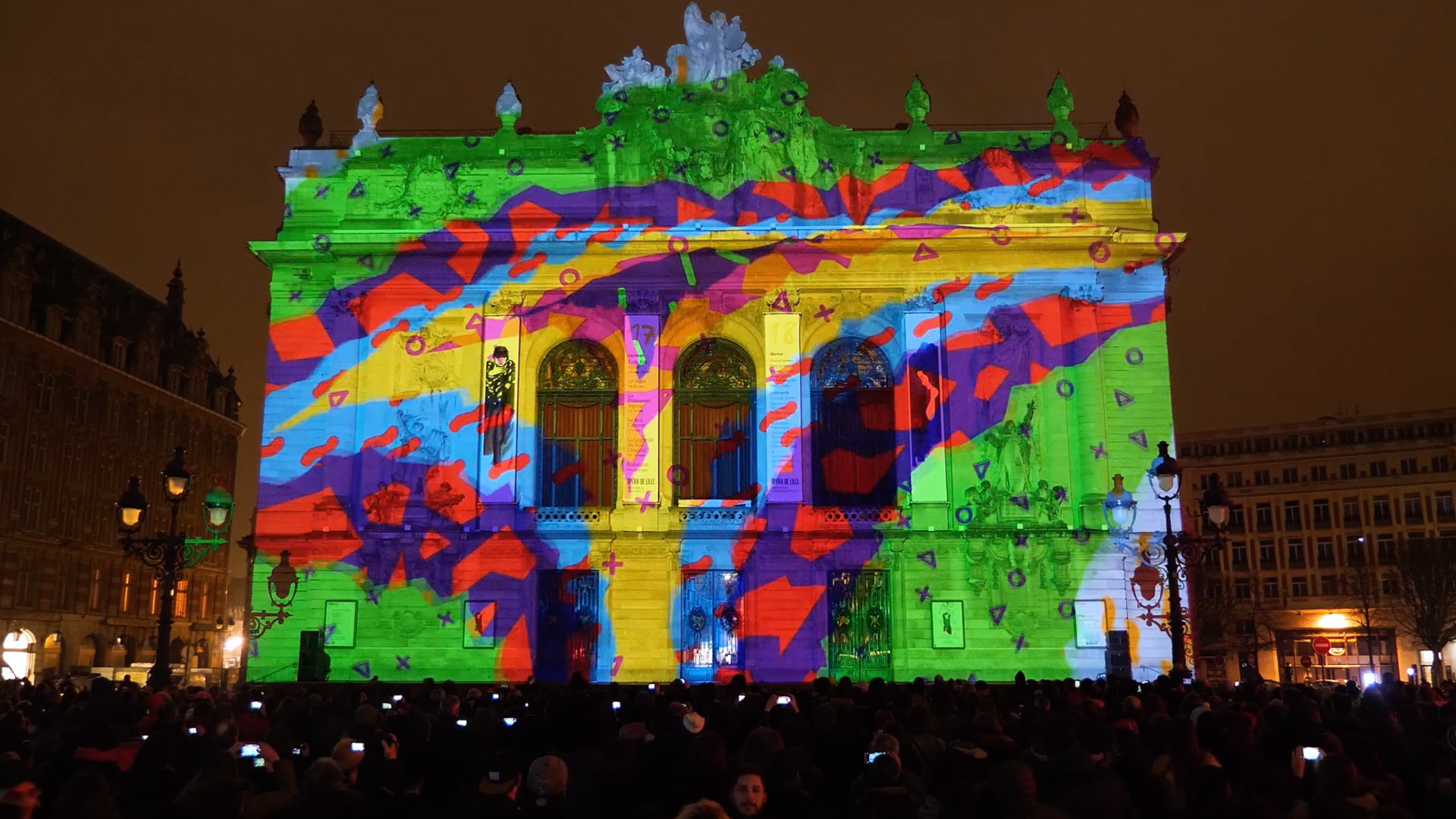 Video Mapping Festival #1
Soirée d'ouverture / Opening night
23.03.2018
Opera House
 
Lille / France
Video mapping réalisé par 53 étudiants européens au cours d'un challenge créatif de 4 jours.
Video mapping created by 53 European students during a 4-day creative challenge.
18.03 – 21.03.2017 Arenberg Creative Mine, France
Dans le cadre du Video Mapping Festival #1 et du projet européen Euranim.
As part of the Video Mapping Festival #1 and the European project Euranim.
Avec le soutien de l'Union européenne, programme Europe créative, projet Euranim.
Opéra de Lille, Ville de Wallers-Arenberg, Arenberg Creative Mine
 
Encadrement / Supervising staff Samy
BARRAS Susie-Lou CHETCUTI Tamas ZADOR
 
Coordination pédagogique / Educational coordination
Ludovic BURCZYKOWSKI
 
Création sonore / Sound design
Aleksi AUBRY-CARLSON GĂ©raldine KWIK
 
Équipes crĂ©atives
3axes Institut (France)
Elise DEDULLE
Anthony DUBOIS
Eloi LAMARQUE
KĂ©vin VANTHUYNE
Lionel VERBEKE
Academy of Art in Katowice / Obrum company (Pologne)
Tomasz STROJECKI
Anglia Ruskin University (Royaume-Uni)
Josephine LINGARD
Beeny PURKISS
William ROCHIRA
Katherine THOMAS
e-artsup (France)
Elise LEBRUN
Louis MERIAU
ECV Lille (France)
Pauline BELMONT
Lucie DESROCHES
Charles HUDELIST
Samuel HURET
Guillaume LESAGE

ENSAV La Cambre (Belgique)
CĂ©line DEHON
Théo GUYOT
Lou VERANT
Emily WORMS
Ésaat (France)
Sophie AGNERAY
Loan LE HOANG
LĂ©a MINIGGIO
Nina PREVAUTEL
Flora SERUSIER
Leeds Art University (Royaume-Uni)
Christopher HOARE
London College of Communication – University of the Arts (Royaume-Uni)
Cyrus LO
METU – Budapest Metropolitan University (Hongrie)
GergƑ FUXREITER
BeĂĄta NAGY
Viktória SZEKÉR
MOME Budapest (Hongrie)
Éva DARABOS
Emese FÜLÖP
Vivien HORVÁTH
Barnabas NEMES

Plymouth College of Art (Royaume-Uni)
Warren CHARE
Rosalyn GREEN
Ivona IVONOVA
Amber JOHNSON
Boyd MORLEY
PĂŽle 3D Digital & Creative School (France)
Robin BOUILLET
Marius DALLE
Raoul DHELLEMMES
Alexis JOUEN
Thomas VALLENTIN
Supinfocom Rubika (France)
Louise COTTIN
The Animation Workshop (Danemark)
Baptiste DEMIANS
Nicole ZEHETNER

The Hague University (Pays-Bas)
Helena MAEORG
Karolis RAMANAUSKAS
Daphne WONG-A-FOE
Turku University of Applied Sciences (Finlande)
Pauliina LINJAMA
Ylva-Lii WAHLSTRÖM
 
OPÉRA DE LILLE
 
80 000 visiteurs ont assistĂ© au video mapping sur la façade de l'OpĂ©ra !
Une création réalisée pour l'occasion par 53 étudiants internationaux au cours d'un challenge créatif de 4 jours à Arenberg Creative Mine en mars 2018.
---
Studio de création : Loom Prod
Coordination pédagogique : Ludovic BURCZYKOWSKI
Encadrement : Samy BARRAS, Susie-Lou CHETCUTI, Tamas ZADOR
Création sonore : Aleksi AUBRY-CARLSON, Géraldine KWIK
Captation vidéo et montage : Chloé ROUGIER
Production : Rencontres Audiovisuelles 
---
Mapping Festival #1 :  Opéra de Lille / Mars 2018
---